WELCOME TO THE MOYLE PRIMARY SCHOOL WEBSITE
Welcome
It gives us great pleasure to welcome you to our school website.
We are proud of the quality of education and pastoral care provided in our school. We hope that navigating your way around our website will give you a flavour of the warm and friendly atmosphere in our school and of the professional way in which all teachers ensure high standards across the curriculum. Please feel free to browse our recent inspection report, where you can see for yourselves that our school shines in many areas.
Moyle Primary School and Nursery Inspection Report October 2012
We in Moyle Primary School ensure that all children have access to the highest quality education within a caring and supportive environment.
Moyle Primary School has an ethos that celebrates achievement for all children. We encourage children to become independent learners and to develop thinking skills within a positive environment. Standards in Literacy, Numeracy and ICT are monitored and assessed. Challenging targets are set annually for individuals and for the school in these key areas.
Our school has always placed a high priority on building self esteem in young people and of ensuring that the curriculum is vibrant and interesting. Our teaching and learning policy places emphasis on developing the whole child and of providing learning experiences to cater for all styles of learner
The wide range of extra curricular activities allow children from P1 to P7 to have opportunities to develop interest and expertise in a variety of musical, sporting and other clubs. Our extended school facilities include breakfast club (from 8.00 am), after school home-from-home care (from 2.00 pm to 3.00 pm for P1, 2 and 3), soccer and hockey coaching. There is also a full range of other after school activities to fully engage children in the vibrant life of our school.
Peter Garrett and Lorna Plenderleith
(Principal Partners)
-------------------------------------------------------------------------------------------------------------------------
School Tour of Moyle Primary School
New Primary One children, starting school in September 2016, can familiarise themselves with the school before starting by watching the video below. This will help your child have a smooth transition into the Foundation Stage. We look forward to seeing you in Primary One.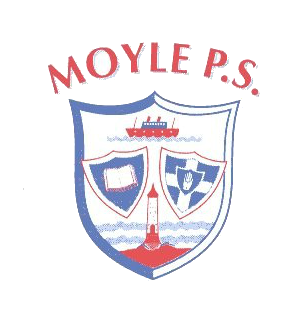 Latest School Diary Events
There are currently no events.
Calendars page(s): School Diary >>
Moyle Primary School News